English Conversation Going to the Cinema
We are going to read today Common daily conversation in English between some people. Let's Read English conversation Going to the cinema. and read buying movie ticket conversation.'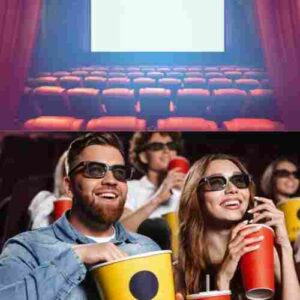 ENGLISH CONVERSATION AT THE CINEMA
RAVISH: What's on in PVR Shreya this afternoon?
Enquiry clerk: It's an English Movie ' Day or Evening ' out' at  4 O'Clock, Sir.
Himansh: But we came to watch ' Sultan'. We don't wanna watch the 'Day or Evening movie'.
Enquiry clerk: Oh, The Next Show for 'Sultan' is Only at 7′ O'clock. I'm afraid you'll have to come again.
Himansh (to his friend): Do you think we should come back just to watch a film or Should we make it some other day?
Sonali:   Let's come back later. My other friends went gaga over it. Besides that, I really enjoy Salman khan's Work and this is his Directorial debut.
Ravish: Yes' I think we must make it today.
Ravish: ( To the clerk ) Would you mind booking our seats in advance?
Enquiry Clerk: Definitely, Sir, If you are sure about it.
Ravish: Where's the booking window? By the way, What seats would you recommend ?
Enquiry Clerk: I'd Suggest the dress circle, Sir. Go to the fourth Window from here. The booking clerk there will reserve your seats for the Seven O'Clock Show.
Ravish: Thank you so much.
Enquiry clerk: My pleasure, sir.English Conversation Going to the cinema 
Also Read,
10 Best Lesson Short Stories for Kids in English with Moral
Going to the movies
Visit our website and read Daily new English Conversations
results : Best Conversation in movies,Going to the movies, Conversation with friends about movies, Buying Movie Ticket conversation